Mould base for plastic injection moulding.
It is the production tooling that holds the moulds used to produce plastic parts in injection moulding. In its simplest configuration it consists of:
- a stationary plate to which the front half of the mould is attached (typically the cavity)
- a moveable plate which carry the other half of the mould (core)
- a support and guidance system for the moveable plate (typically 4 cylindrical pins)
More complex parts are formed using more complex moulds, which may have movable sections called slides.
Ejector plates, attached to an hydraulic piston, operates the ejection pins that separates the moulded part after cooling.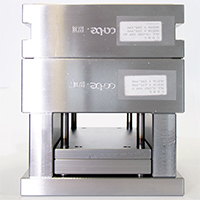 Prehardened Steel.
CA-BE's mould bases up to 396 series are made with Formadur 1.2738 prehardend steel that features improved hardenability (30-32 HRC), uniform hardness through to the core, good machinability and optimum suitability to etching.


Carbon Steel.
When requirements are less demanding, as with interchangeable dies, 1.1730 steel can be utilized.
For cavity plates, a stress relieving heat treatment is performed to raw steel bars after they are cut to size.
Machining characteristics.
Every operation of shaping, drilling, boring, machining and grinding is carried out exclusively with CNC machines.

Machining characteristics:
- grind finish surfaces
- squareness 0,01 mm over 100 mm length
- planarity 0,005mm over 100 mm length
- pins interax 0,005mm

tight tolerances allow perfect interchangeability of the plates.
Plates sides (typically grinded), can be upon request left machined and prepared with a 25 mm height reference groove all along the perimeter to be used for alignment (feature available from series 396 up).